St. Albert Electrician
Established electricians  – Serving St. Albert for over 25 years
Professional electrical has been serving St. Albert Electrician requirements for over 26 years. We are very proud that we have served many long terms residents of St. Albert in these years. No matter you need an electrician for your residential or commercial electrical project, we are available to help.
And don't forget that if you are checking possibilities of renovation and need and an electrician to give electrical renovation estimate, we will be more than happy to do.
Have an old house in St. Albert and wondering if you need service panel upgrade! Give our electrician a call and he will guide you.
Are you facing any sort of electrical emergency in your house or commercial building? Call us at 780-476-1413.
Google Map – St. Albert
St. Albert 
St. Albert is located in northwest corner of Edmonton and is one of the biggest Edmonton's metropolitan city area. It has population of nearly 70,000 and area of 48.45 km2.
Being an old Alberta city, (town since 1904), St. Albert may still have a lot of houses and commercial buildings with aluminium wiring and old electrical wiring comprising of old techniques. It is not a secret that aluminium wiring is quite dangerous as it increases the arching and fire hazard in the house or commercial building.
If you need electrical inspection and assessment of such a house or commercial building, give us a call at 780-476-1413
Curious about St. Albert! Find our more about the City.
How's Professional Electrical and Controls is different?
We have been serving St. Albert for over 25 years. Our electricians are local and understand the need of the area very well. We are also in the top 3 best rated electricians as independently awarded by The Best Rated. ca.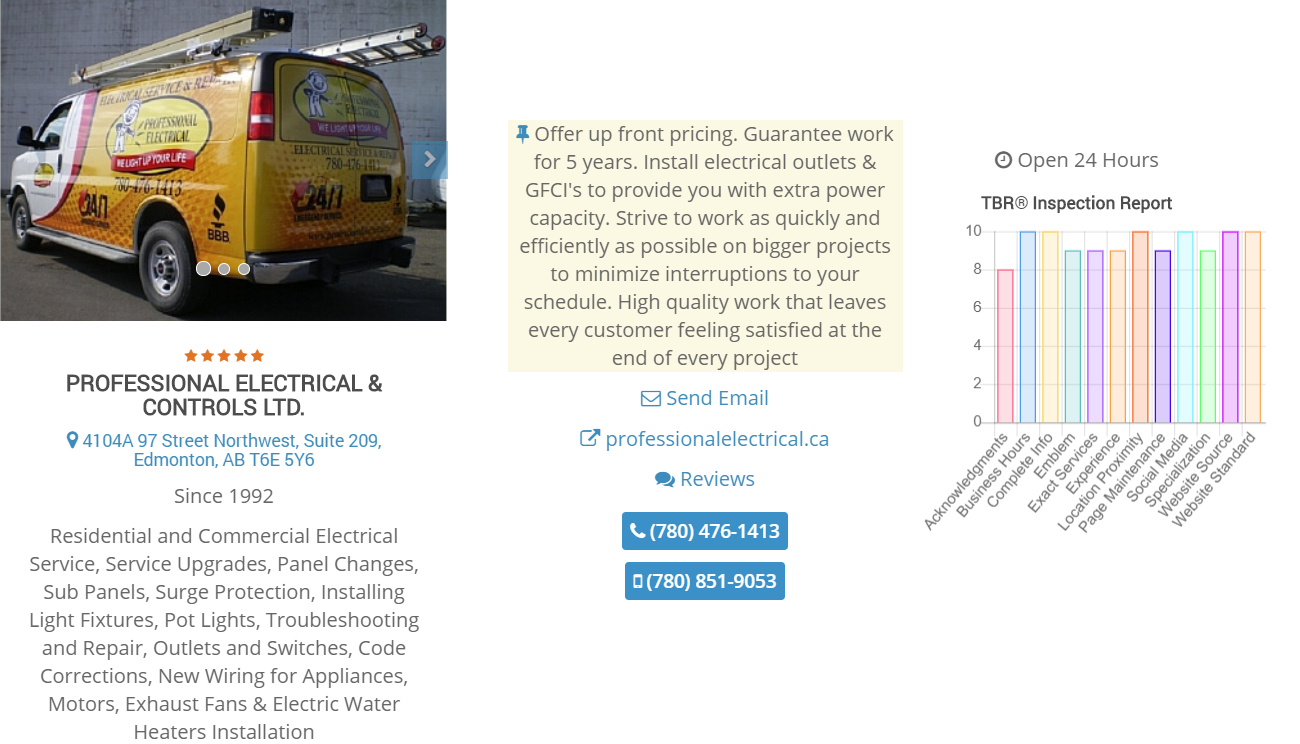 We also offer other electrical maintenance services that will help to maintain the electrical components of your house without any hassle. One of such plan is Home Protection Plan.
Under Home Protection Plan we offer;
Priority service, electrical safety inspection, service satisfaction commitment, exclusive specials, a home value booster and safety savings.
Another plan is seniors discount on all electrician calls and services. Check details of the seniors discount.
In addition to regular electrician's work, we help you to inspect, maintain and keep your house up-to the current electrical code and standards.
We don't charge any extra fee for dispatching an electrician on an urgent basis.