Sherwood Park Electrician
Professional Electrical and Controls are leading electricians serving Sherwood Park.
Are you searching for an electrician in Sherwood Park in Alberta but could not find a dependable one at right time?
We proudly serve Sherwood Park Electrician Needs
We have been serving Sherwood Park and area for over 25 years. We are proud to be one of the oldest known electricians who serve Sherwood Park area.
Our Sherwood Park electrician covers full electrical services for residential, commercial, emergency, electrical inspection and electrical renovation projects going as far as highway 21 touching the boundary of Sherwood Park and crossing well over Fort Saskatchewan on the East side and going over Highway 37 beyond St Albert on the west side.
It doesn't matter if you have a very small electrical issue. Usually electrical issues are hidden and present unseen dangers for an household or a commercial building. We will be glad to come out and help you sort out the danger.
Professional Electrical and Controls Ltd. is an accredited A+ business at BBB.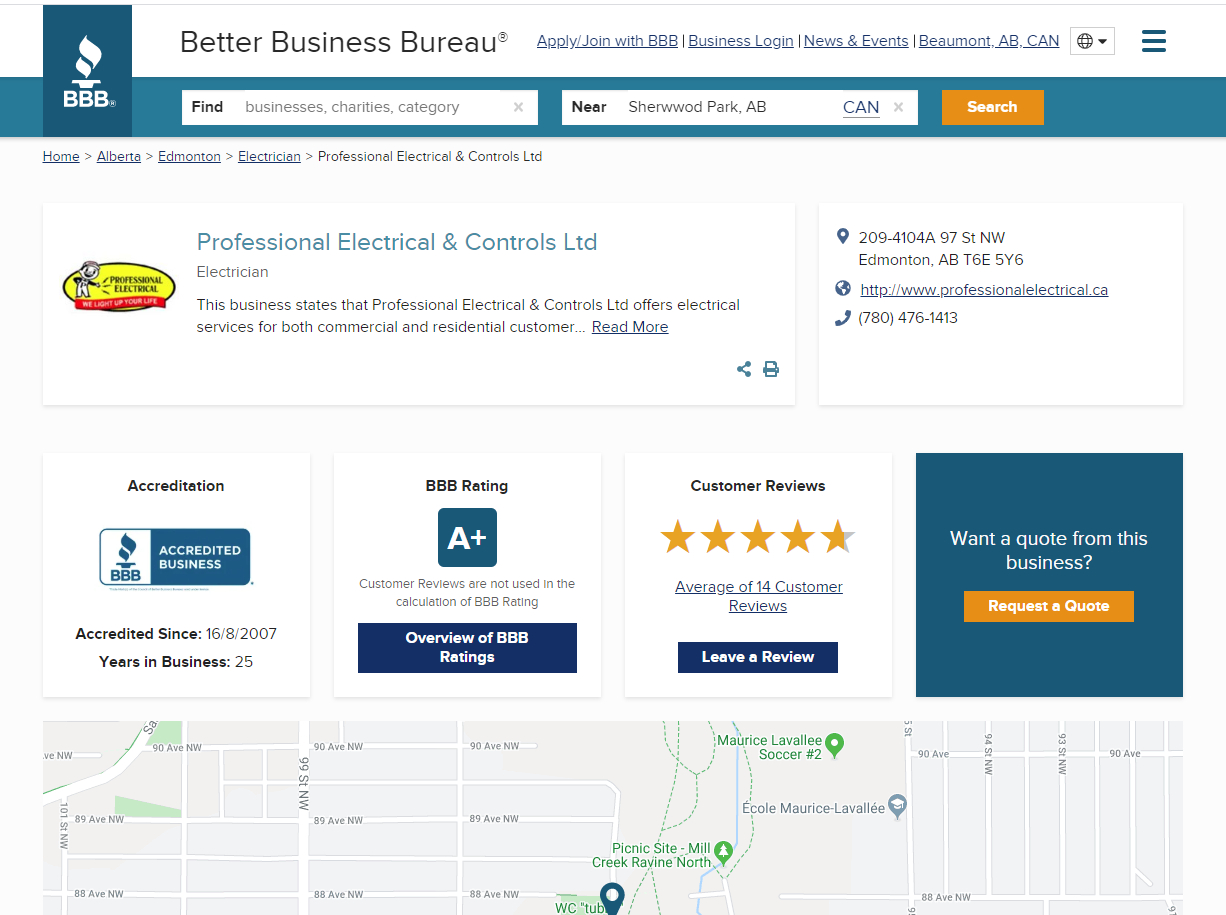 For all your Sherwood Park electrician needs, don't delay, give us a call at 780-476-1413.
What can our residential electrician do for you?
We cover vast variety of residential electrical services. You might need a panel upgrade or meter socket repair. You may need to simply change bulbs in your entire house and test for electrical safety. We will do it gladly.
There are many old houses in Sherwood Park. Old houses, specially if there electrical wiring system is not upgrades may have aluminum wiring and you need to inspect it for insurance or other safety purposes. Our team will make sure that it is done right for you.
If you have rewiring plan due to old Aluminum wiring in your house, our electrician can have a detailed look and give you valuable insights on what and how things should be done as per current code.
You may not have any electrical issue in your house but you are planning to renovate your room, an entire level of the house, kitchen, washroom or basement and you need a dependable electrician to complete the project. Our electricians will be more than happy to come out and give you a proper walk through and estimate.
It is possible that your garage wiring is giving you trouble, you need some breakers replaced, you may need alarms, plugs, switches, thermostats, internet cables or more electrical systems installed, tested or troubleshooted.
Sherwood Park is known for its nice big houses and quality of living. When it comes to festival lighting installation and removal, it is a big task. Call our electrician to get it done for you. In time, done right with safety as topmost priority in the mind.
You get the idea. You may need electrician's help for anything in your house. Our residential electrician can be out at your place as per your plan and help you get your job done.
Urgently need residential electrician in Sherwood Park? No issues. Call 780-476-1413 any time.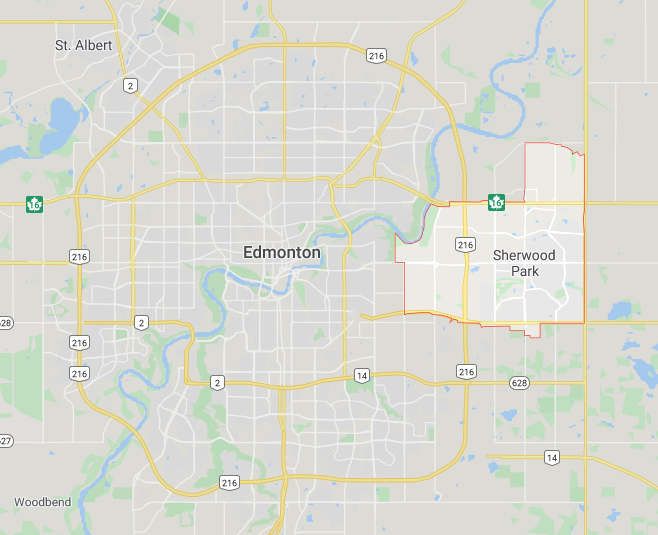 What can our commercial electrician do for you?
Sherwood Park is an industrial town. There are large commercial buildings, office and industries that need services of an electrician 24 hours a day, 365 days a year.
We are very happy to send our Sherwood Park electrician to help you in your commercial buildings such as malls, condos, apartment complexes, retail outlets and more. You may need electrician for maintenance of automated control systems, troubleshooting, code verification and correction, panel upgrades and more.
Our commercial electrician will also love to help you conduct annual electrical inspection of the building for you.
Emergency area lighting and exit indicators is another requirement that our electrician an help you fulfill as per your time plan.
There are a lot of new commercial buildings being build in Sherwood Park. Our commercial electrician can install and maintain your CCTV security systems.
Need an electrician because parking lot lighting has stopped working? Our electrician will love to help you to troubleshoot the issue for you.
Further into electrical needs, you may need to replace many lamps or receptacles on your shop-floor, you may need to test a motor and its controls or you may need a sign repaired.
Same as our residential electrician, our commercial electrician will love to help you in Sherwood Park.
Need a commercial electrician urgently in Sherwood Park? Give us a call at 780-476-1413.
Helping you in your electrical renovation plan in Sherwood Park
Time goes by very quickly. As the old houses get renovated in Sherwood Park, new houses get old and you as an owner may decide to have electrical renovation up-to the new wireless technology integration, code, additions and more.
One good thing about renovation is that it is a complete planned activity. Our electrician will evaluate the needs, will combine it with future improvements and present you a perfect renovation layout of your house.
Give us a call to plan your electrical element of your dream renovation project! We are here to help! 780-476-1413
Live in Sherwood Park and have an electrical emergency that an electrician can solve?
We know Sherwood Park is quite a big geographical area. There are 200 pin/zip codes in Sherwood Park. Many areas in Sherwood Park are remote or rural and it is hard to access, specially in winters.
In such situations if you need an electrician, it is hard to get one. We will be more than happy to get to you in time and solve your electrical emergency.
There are no extra charges just because you are remotely located in Sherwood Park. When you need an electrician on urgent basis, we know it is important, so we will get one to you right away.
Google Map – Sherwood Park
Send a quick request for a quote.